Dakjjim 닭찜 / Jjimdak 찜닭
This is a popular dish that began in Andong (안동시), a small town in the centre of Korea in the Gyeongsangbuk (경상북도) province. Andong (안동시) is considered by some to be the "Capital City of Korean Spiritual Culture", as the city continues to cultivate and display many aspects of Korean historical culture, dating back around 2,000 years. Andong (안동시) has a traditional market in the centre of town — in it, you can find a section named Dak golmok (닭골목), which translates to 'chicken alley' where multiple restaurants specialise in serving dakjjim (닭찜) / jjimdak (찜닭). As it is an open-air market, it is known for its fresh ingredients which makes it an especially good place to visit! If you visit one of these restaurants, be prepared to sit on the floor and be served huge amounts of delicious food. Know that there are many different versions of dakjjim (닭찜) throughout Korea, including spicier varieties and a type that is covered in cheese.  
Dakjjim (닭찜) is a chicken stew with steamed chicken, noodles and a variety of vegetables, and is usually served over cooked white rice. It can be cooked on the stove or in a slow cooker. It is a sweet dish that is especially tasty and comforting in the depths of winter. In Andong (안동시), it can be served in a similar manner to Korean Barbecue — on a heated serving pan on the table. You'll also be glad to know that it is also a great healthy alternative to Korean fried chicken if you happen to be craving something healthier. Two restaurants to look out for that serve it are Andong Yujin Braised Spicy Chicken (안동 유진찜닭) and Hyundae Jjimdak (현대 찜닭).
This stew is thought to have been a special dish in the Andong Village during the Joseon dynasty and served on special occasions. 
Ingredients:
3 lbs of bone-in skinless chicken thighs (about 8-10 thighs) (Quorn vegetarian alternatives can be used, or tofu for a vegan alternative!)
2 medium carrots, cut into large pieces
2 white potatoes, cut into large pieces
4 shiitake mushrooms, sliced
4 minced garlic cloves
1 yellow onion, sliced
2 spring onions, sliced thinly
1 cup of sweet potato noodles, soaked in warm water for 30 minutes (optional)
sprinkle of sesame seeds for garnish
1 red hot pepper sliced (optional, if you want some spice)
salt and pepper
small amount of cooking oil
Sauce:
1/2 cup soy sauce
2 tablespoons of brown sugar
2 tablespoons of oyster sauce (Omit if vegetarian/vegan)
2 tablespoons of rice wine (mirin)
1 tablespoon of sesame oil
1/2 inch of grated ginger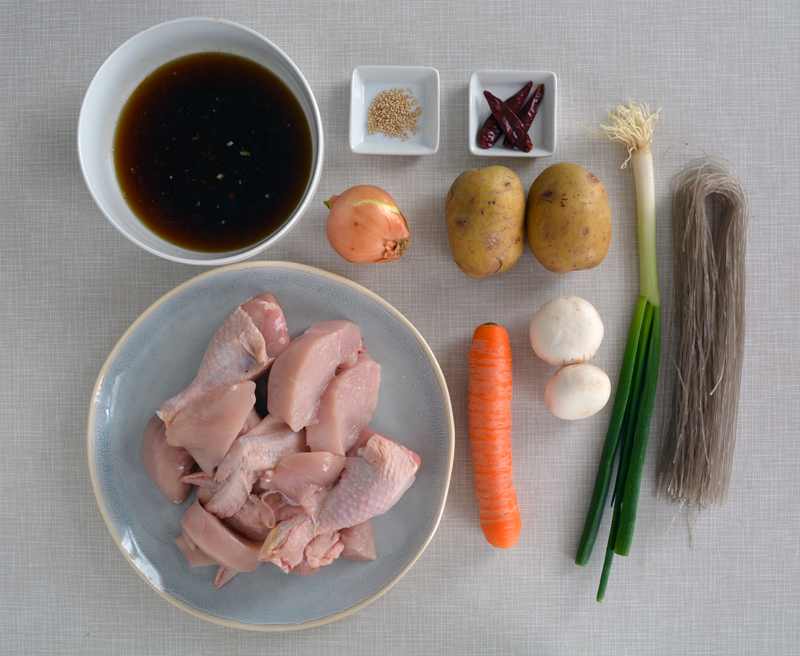 Directions:
1. Place the chicken in boiling water and cook for approximately one minute (Alternatively, cook your vegetarian alternative as instructed on the packet, or, if using tofu, consider marinating it for half an hour beforehand in a mixture of soy sauce, brown sugar, ginger, garlic, and spring onion! Be sure to cover.)
2. Drain the water and leave the chicken to cool.
3. Add the cellophane noodles to hot water and leave them to soak while you continue with the preparations.
4. Mix the sauce ingredients in a bowl.
5. Put the chicken (or equivelant) in a large saucepan. Add the sauce and 3 cups of water. Put the heat on high until it boils, then reduce heat to medium for 15 minutes.
6. After 15 minutes, add the vegetables (except the spring onion) to the large saucepan with the other ingredients.
7. Cook for 12 minutes over a medium-high heat.
8. Drain the noodles and add to the saucepan with the spring onions. 
9. Leave the heat on for three more minutes then turn off. 
10. Sprinkle over the sesame seeds.
11. Serve over hot rice.
Want to experience more of Korean culture? Why not subscribe now to the Inspire Me Korea CULTURE box to receive a box of goodies sent to your door every month? We ship internationally! Find out more here.
Featured image source: © Dinner, Hyeon Jeong 2019/11/30, https://www.gildedgingerbread.com/andong-jjimdak-korean-soy-sauce-braised-chicken-noodle-stew/