It's that time of the year again. Deadlines are piling up, the term is in full swing and exams are looming. That's where we come in! We've found the cutest stationery from popular Korean brands to give your notes a facelift. From highlighters to little sticky notes, we've got you covered! If you want to receive some adorable stationery along with yummy snacks that will keep you energised, why not order our MOTIVATION box? We'll also be giving you some tips on how to best use these items so you can ace those exams!
1. Urban Vintage Bedside Pocket by UIT
Image Source: ©UIT, 17.03.17, k-stationery.com
Ever found yourself doing some last-minute cramming in bed right before you go to sleep? This nifty invention will make your studying just that little bit more organised. Just attach this onto your bedside table or even your bed itself, and then all of your study materials are all in one place at an arm's reach! It's perfect for doing some light revision last thing at night or first thing in the morning, when you just don't want to get out of bed.
2. 2 Way Deco Pen by ICONIC
Image Source: © ICONIC, 17.03.17, www.designedbykorea.com
These might not be the cutest Korean pens out there, but they sure are practical and perfect for a budget. With both a thick and thin nib, this product is two pens in one! There is a choice of five vibrant colours which will make your notes stand out. When writing notes, we recommend writing key words with the thin nib and underlining key concepts with the thick nib. Sticking to one colour per topic will also really help you remember the material when it comes to the exam.
3. 'Finger-It' Sticky Tabs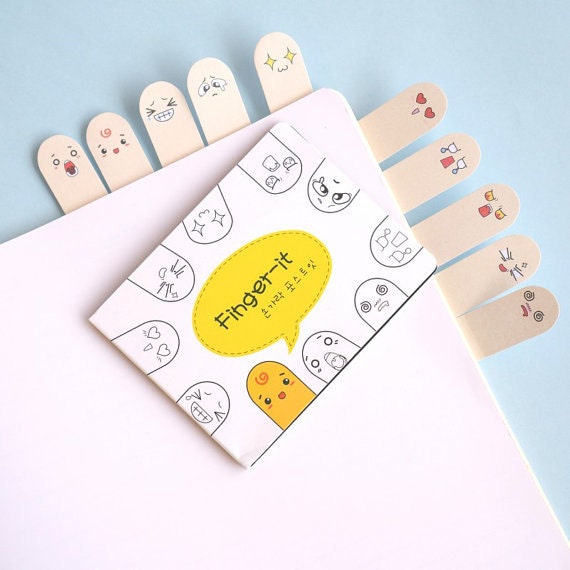 Image Source: 17.03.17, www.etsy.com
Sometimes you have so much reading to do but can't get to it all just yet. Or maybe you read a page in a book which you want to make notes on later. To give your brain a break, use these adorable sticky tabs instead! Just stick these on the pages which you want to read and remove them when you've finished reading. You can even write on these tabs to remind yourself of what to focus on while you read.
4. Molang File Folders
Image Source: © Molang, 17.03.17, www.aliexpress.com
Have you ever had so many sheets from different classes floating around, unorganised? These cute folders with popular Korean character Molang on them will sort you out! Dedicate one folder to every class and keep all your loose sheets and handouts inside. They're also perfect for handing in essays and final projects, as they save your hard work from getting crumpled.
5. Diary Stickers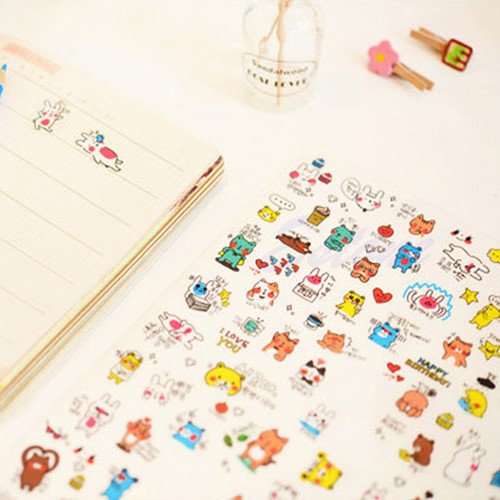 Image Source: 17.03.17, www.ebay.com
Who doesn't love stickers? We think that these are an adorable and cheap way to brighten up your diary or planner. Just put one of these next to the day of a deadline as a reminder, and every time you look at it you'll smile! These are just some examples, but there are loads of planner stickers out there, including ones of KAKAO and LINE friends!
6. L – Toy by VM Pictures
Image Source: © VM Pictures, 17.03.17, www.buykorea.org
If you need a break from your studies, this toy will help clear your mind. These cute toys are featured in both our May CULTURE Box, and you may recognise them from last November's CULTURE box as well. We recommend writing a motivational note to yourself on the back and then to build the toy. When you've finished all your exams or met all your deadlines, open the toy up so you can read the message you wrote! It'll make you feel accomplished.
That's our list! Hopefully these products will inspire you to do some stationery shopping. Just don't procrastinate too much!
Featured Image Source: © congerdesign, 17.03.17, pixabay.com
Cutefile foldersiconickawaiiKoreanL-ToyMayMotivationorganisationpenplannerstationerystickersticky tabsStudystudy tipsuit