As the theme of this month's CULTURE box is cooking, food has really been on our minds. Have you ever wondered what your favourite K-Pop idols like to eat? We certainly have. So, we thought we'd make a list of the favourite foods of popular Korean idols. Some of them night surprise you!
1. EXO's Kai – Chicken
Image Source: ©QueenPanda11, 06.04.17, fykai.tumblr.com
Many idols are fans of Korean fried chicken, and can you blame them? However, we think the biggest fan of this delicious staple is EXO's Kai! Previously dubbed 'Doctor Chicken', he is the happiest when eating this food.
2. SHINee's Taemin – Banana Milk
Image Source: 06.04.17, www.kpopstarz.com
Ever since SHINee appeared on the variety show 'Idol Maknae Rebellion' a few years ago, it's been a running gag that Taemin likes banana milk. Both his members and his fans have found his love for the drink very cute, and it certainly makes us curious to try it sometime!
3. Hyuna – 삼겹살 (Samgyeopsal)
Image Source Left: © hyunah_aa, 06.04.17, www.instagram.com, Right: ©hannaone, 06.04.17, pixabay.com
Otherwise known as pork belly, this is a dish that is usually eaten at a Korean barbecue restaurant. We had no idea that sexy idol Hyuna would love this food so much, as it's very filling and heavy. It makes us even more jealous of her amazing figure!
4. SNSD's Seohyun – Sweet Potatoes
Sweet potatoes are often seen as a Western food, but they are actually a popular street food in Asia as well. Maknae Seohyun of SNSD is absolutely obsessed with those food, and even offers it to her friends. Her members even revealed in an interview once that she dreams about sweet potatoes and prefers them over men!
Watch the video above to see Seohyun talk about her passion for sweet potatoes!
5. GOT7's JB – 
순두부찌개 (

Sundubu Jjigae)
Image Source Left: ©igotbulletproof, 06.04,17, igotbulletproof.tumblr.com, Right: ©rm673, 06.04.17, pixabay.com
Another popular dish in South Korea is the 순두부찌개, which is a soft tofu stew containing vegetables and sometimes meat or seafood as well. His interest in this dish was revealed on TV program Real GOT7 where member Jackson got JB 순두부찌개 and 부대찌개 (Budae Jjigae) soup packs. It's been an inside joke among fans ever since!
6. EXID Hani – Gopchang and & Soondae
Image Source: © Banana Culture Entertainment, 06.04.17, www.kpopmap.com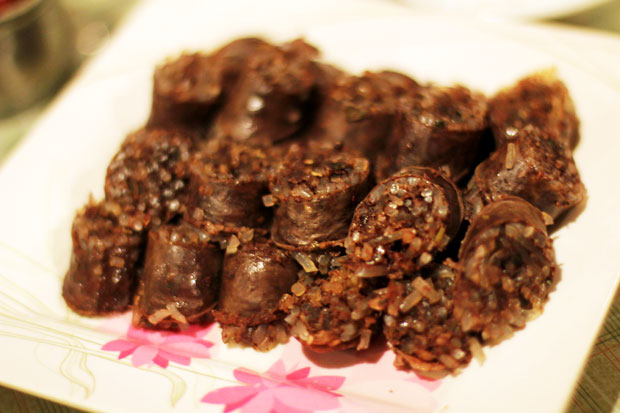 Image Source Left: © littlepepper, 06.04.17, www.pixabay.com, Right: 06.04.17, www.willflyforfood.net
If you're a fan of EXID or Hani herself, you've probably seen how much she loves food. However, her favourite foods may sound a little strange to people in the Western World. Recently, she's revealed that she likes intestines! More specifically, Gopchang (grilled pork intestines) and Soondae (blood sausage containing beef or pork intestines and stuffed with glass noodles as well as other ingredients). It's definitely an acquired taste, but if you go to South Korea, or even a Korean restaurant, you should give it a try!
We hope that from this list, you've gained an insight into the lives of your favourite Korean idols. Does it inspire you to try one of these foods?
Featured Image Source: 06.04.17, youtube.com
Aprilbanana milkblood sausagecelebritychickencookingexidFoodFunFunnyGOT7hanihyunaidolintestinesjaebumjonginkaiKoreanKpopsamgyeopsalseohyunSHINeeSNSDsweet potatoesTAEMIN